Begin A Sustainable Dental Routine ~ Plastic-Free Experience ~ Unleash Charcoal To Whiten Your Teeth ~ Natural Silk Floss ~ Eco-Bright Smiles
Embark on an eco-smile journey with our sustainable dental delights! From bamboo brushes to charcoal chompers, it's the fresh breath fiesta your mouth has been waiting for. Imagine a pure cleanse, sassy silk floss, and a dazzling eco-smile. All teeth types? Roll out the green carpet! Wave 'hello' to nature's brilliance and 'toodles' to toxins. Green dental care has never been this cheeky. Grin on, give it a go!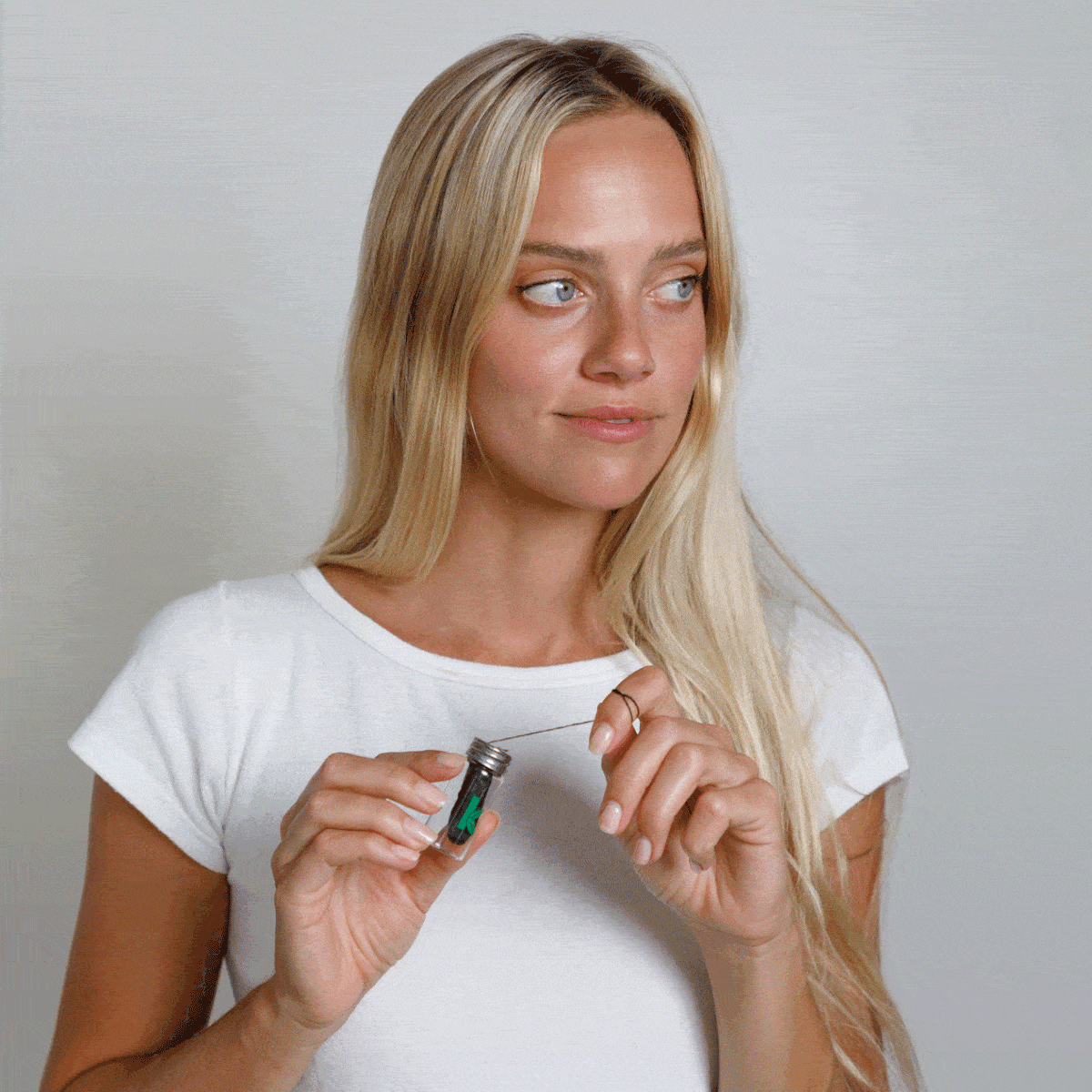 Unspooling the Truth: Eco-Friendly Floss Over Plastic
Let's floss forward, unraveling the reasons for an eco-shift on everyday routines. Let's get flossy.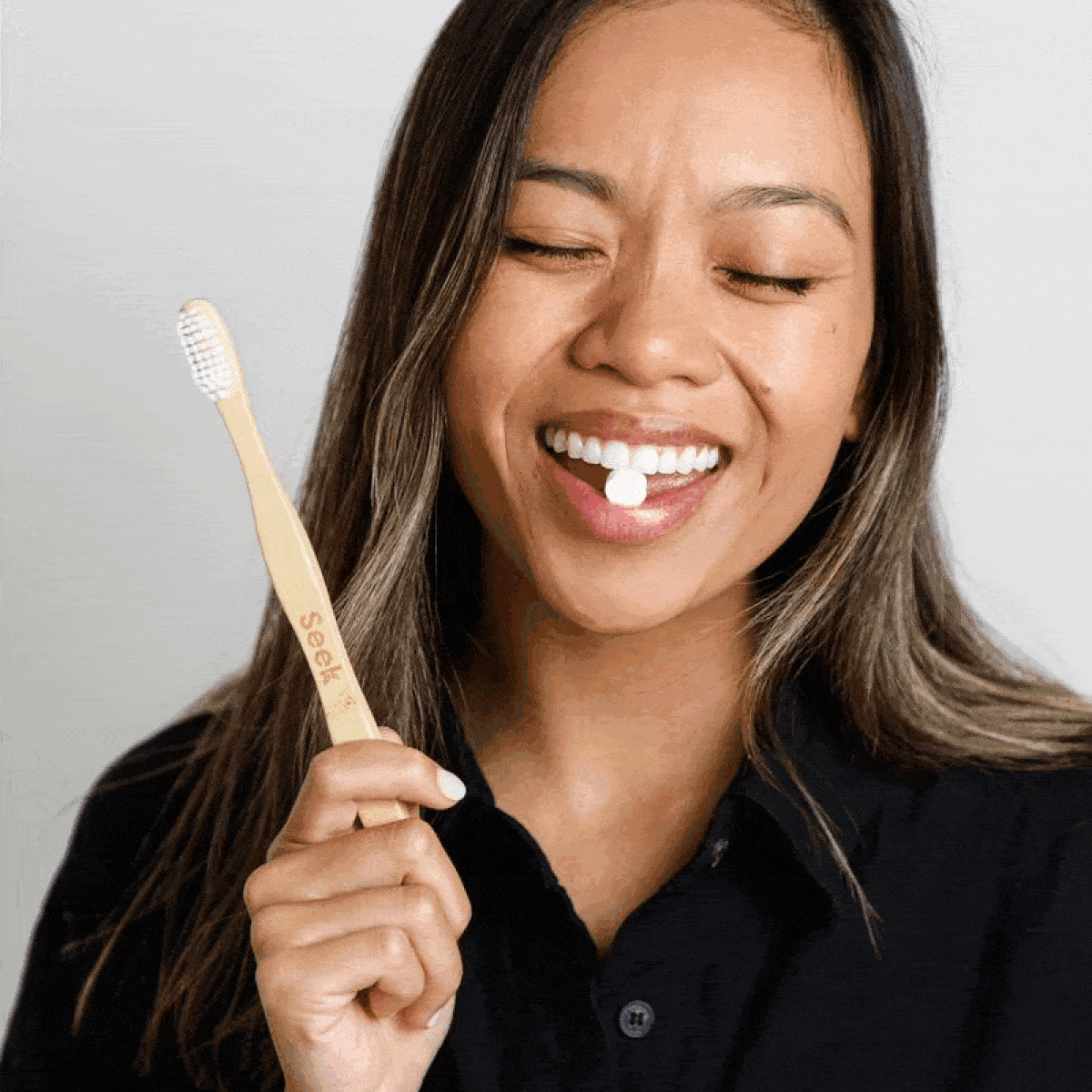 A Brush Beyond the Usual: Bamboo's Calling
From nature's backyard to your bathroom: Jump into the grove of greener, cleaner brushing habits.
Sustain Your Smile: The Essential Kit!
Dive into a refreshing routine with our curated collection: bamboo toothbrush, stand, case, eco-friendly floss, and toothpaste tabs. Kickstart your sustainable journey confidently; every essential in one kit, every choice kinder to our planet.
Limited Sustainable Smiles Kit $30.00
Beyond the Grin: Caring from Within FAQs!
Discovering the depths of truly sustainable smiles.
Are toothpaste tablets as effective as regular toothpaste?

You bet! Focusing on the incredible oral care benefits derived from just nine vegan-friendly components our toothpaste tablets boast the same strength as conventional paste, ensuring those chompers stay cavities-free. Plus, without the need for water during production, it's a win-win for your teeth and the planet.

Seek Bamboo's Toothpaste Tabs offer a refreshing approach to oral care with an eco-conscious twist. Transform your daily brushing routine into a new sustainable experience unlike anything you've ever imagined.
How do toothpaste tablets work?

Simply pop a toothpaste tablet in, chew until it foams up, and brush with a wet toothbrush. The future of oral care, without the traditional plastic tube fuss! Our landfills will thank us.
How are toothpaste tablets more sustainable than regular toothpaste?

Apart from the obvious eco-chic factor, our tablets come in recyclable or compostable packaging, which means no more discarded plastic tubes. They also require less water during production. Sustainable and efficient – what's not to love?
Are charcoal toothpaste tablets safe for daily use?

Yes indeed! Our Charcoal Toothtabs are formulated to be gentle yet effective. While they give a deep clean, they're designed not to be abrasive. A daily detox for your smile, without the harshness.
Are toothpaste tablets safe for children?

Absolutely! But like any product, it's best to keep an eye on the little ones. The mild flavor and foamy fun might just make it their new favorite brushing routine!
What are the benefits of using silk floss?

Not only is silk floss strong and effective, but it's also compostable. It offers a luxurious glide between teeth and ensures your oral care routine is as green as it gets.
How is bamboo floss different from regular floss?

Our bamboo floss incorporates activated charcoal and bamboo fibers. It's just as efficient as your standard floss, but brings some eco-swagger to your dental game with its biodegradable properties.
What's the lifespan of eco-friendly floss compared to conventional floss?

Eco-floss dances its way between your teeth just as long as its conventional counterparts. However, when the performance ends, eco-floss exits stage left, returning gracefully to nature.
Are there any animal products in silk floss?

Yes, traditional silk floss is derived from silkworms. We prioritize ethical sourcing, ensuring a sustainable and 100% cruelty-free process throughout.
Are bamboo toothbrushes better than plastic toothbrushes?

Every. Single. Day! Your skin's daily dose of gentle exfoliation and love.
What are the benefits of using bamboo toothbrushes?

Beyond its biodegradable benefits, bamboo has natural antimicrobial properties. This means it resists microbial growth more than plastic, keeping your brushing routine naturally cleaner.
How long does a bamboo toothbrush last?

Your bamboo brush loves to groove with you for the same 3-4 month stint as regular brushes. But when it's time for a change, it parts ways more eco-consciously.
How do I care for and clean my bamboo toothbrush?

It's a breeze! Rinse after use, let it air-dry, and occasionally expose it to sunlight to prevent bacterial growth. Dance it around in a cup of water with a touch of white vinegar every so often for a deeper clean.
How do I properly dispose of or compost a bamboo toothbrush?

After its final encore, pluck out the nylon bristles and toss the bamboo handle in your compost. Mother Earth will thank you as it harmoniously breaks down.
Have another question about our sustainable oral care?
Email us: Hello@SeekBamboo.com